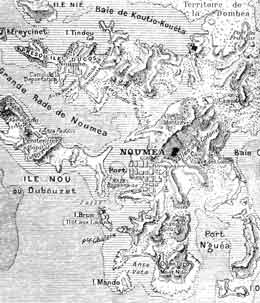 Port de France
Noumea was founded in 1854 by Tardy de Montravel under the name of Port de France. After exploring Baie St. Vincent 30 km further North, he picked-up this site, a peninsula in the southern end of New Caledonia (Grande-Terre), for its well sheltered deep water harbor. Tardy de Montravel had been thinking as a sailor. The harbor quality seduced him. But there was almost no fresh water in the peninsula. It became necessary to collect rainwater from houses roofs. Later on water was piped from the Yahoue small river near "Pic Malawi" (or" Chapeau de Gendarme"). Water was a recurring problem for this town which is today supplied by a dam on the Dumbea river 20 km away and also by a 50 km pipe from Tontouta river as current needs exceed Dumbea dam resource.
The first settler was in fact an Englishman James Paddon, a remarkable merchant sailor. He bought a part of Nou Island in 1845 from chief Kuindo and established a trade and cattle center. He sold his land to the French State in 1858.
The name Port de France was abandoned in 1866.
Port de France had a few hundred inhabitants in 1866. They were mostly army and colonial administration people settled near the port on the Western side of the peninsula. Colonial settlers were few. Some settled to the East in "Vallée des Colons" and to the North near the Conception mission.
This map from Bouquet de la Grye does not show the penal colony buildings set on Nou island as from 1864.
Port de France area is today Noumea center town.