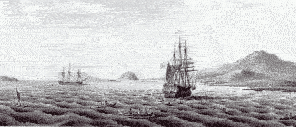 Wreckage of Jean-François de Galaup, count de Lapérouse
Jean-François de Galaup, count de Lapérouse left France in August 1785 with two ships La Boussole and l'Astrolabe, for a voyage of discovery in the Pacific Ocean.
Lapérouse's mission had been ordered by Louis the XVIth. It was all embracing; bring new knowledge on the Pacifique Ocean, improve maps, study unknown people, bring back new plants. It had also political objectives with projects of establishing French settlements in Alaska, in Philippines and in Kamchatka. New Caledonia, discovered by Captain Cook 11 years before, was to be more explored. His expedition was also to search for the Northwest Passage from the Pacific side and to explore along the coasts of America, China, and Siberia and in the South Seas. He reached Alaska, visited the Hawaiian Islands, Macao, and the Philippines, then went to Japan and Kamchatka, and discovered La Pérouse Strait in 1787. He landed at Samoa and the Friendly Islands. He left Australia (Botany Bay) on 10th march 1788 heading NW towards New Caledonia and then vanished with his two ships and 220 men. The loss of de Lapérouse was a mystery for a long time. Louis XVIth while being taken to the guillotine was said to have asked : "have we got news from Monsieur de Lapérouse".
An expedition was sent to his research in Septembre 1791. It was headed by Admiral d'Entrecasteaux who arrived at the Isle of Pines (New Caledonia) on 16th June 1792. While heading later to the Santa-Cruz Islands, he discovered on 19th May 1793 a new island which he named "'île de La Recherche". Without landing on it he then sailed on to Sourabaya. This island was Vanikoro (Santa Cruz Is., Solomon is., North of Vanuatu) and d'Entrecateaux missed finding the last members of Lapérouse crew as some of them, this was discovered later, were still probably living on this island. Merchant Captain Peter Dillon, in 1826 and 1827, was the first one to discover evidence of the two ships wreckage in Vanikoro.
Peter Dillon, while mooring in Tikopia in 1826, bought a sword which could have been owned by Laperouse. He then learnt that this sword was coming from neighbouring island of Vanikoro. In 1927 he went to Vanikoro where he found canon balls, anchors and other objects. They later were recognized as belonging to Laperouse ships by de Lesseps in Paris. De Lesseps had left Laperouse while in Kamchatka in order to bring the initial archives to Paris, through Siberia. Dillon got reports from Vanikoro natives indicating that the two ships had hit the coral reef. La Boussole had immediately sunk while the Astrolabe crew managed to reach the land where a number of them were slaughtered by the natives. Survirors later built a small ship from the wreck and left the island 9 months later. This ship probably sunk too, near the Solomon archipelago.
The association Salomon research
L'association Salomon créée en 1981 par Alain Conan a pour but d'étudier le destin du navigateur français Lapérouse et d'organiser des expéditions de recherches sur les sites des épaves de la "Boussole" et de l"Astrolabe" à Vanikoro.
Mysteries of the wreckage, of the survivors and of de Lapérouse probable landing in New Caledonia have led to a lot of research since 1960. "association Salomon" started its own research in 1981 following espeditions initiated by Admiral de Brossard in the 1960's.
Since 1981 five expéditions were carried-out in Vanikoro. The 1986 one was a joint French-Australian expedition.
Researchs at sea and on land in Vanikoro have led to the discovery of a large number of objects which were preserved, studied and stored. This studies were carried out by various specialists, archeologists both at sea and on land, botanists, etc. Information was gathered enabling to understand better the wreckage event. In 1999 remains of a camp named "camp des Français" were discovered on land and partly unearthed. This camp proves that a part of the expedition members survived on the island. A TV movie was done. It was broadcast in the "Thalassa" series.
Another expedition was carried-out from 25th October until 5th December 2003. This one demonstrated that Laperouse ship, "la Boussole" sunk by the coral reef while the other ship "Astrolabe" did not sink straight away and this enabled part of its crew to reach land. A skeletton and stones from a mill were found near remains of the La Boussole wreck. Digging on the camp site was carried-on.
Two more expeditions took place in 2005 and 2008 with cooperation of the French Navy. Very important means in equipment were used.
To read and et see
a book from association Salomon on its work : "A-t-on des nouvelles de Monsieur de Lapérouse ?".
Jean Guillou : "Moi, Jean Guillou, second chirurgien de l'Astrolabe" and "Peter Dillon, capitaine des mers du Sud".
Amiral de Brossard : Rendez-vous avec Lapérouse à Vanikoro, Editions France-Empire 1964.
Video "Thalassa" on the 1999 expedition.
A part of the objects found in Vanikoro is displayed at the Musée de l'Histoire maritime de Nouvelle-Calédonie, Noumea. A considerable number of tems has been gathered so far.