A sea country
New Caledonia was populated by people who had to navigate on the ocean to reach it. They came on canoes. The first Europeans came by sea, the first commercial activities were from sea merchants and the position of New Caledonia surrounded by the ocean made it suitable to set its penal colony .
The capital city place, to become Noumea, was picked by a sailor Tardy de Montravel, because of the strategic and sailing advantages of its large sheltered harbor.
It is the French Navy (the " Royale") which initially governed the young colony.
For a long time, people of the "bush" (the ones living far from Noumea) could rely only on boats ("tours de côtes") for their supplies and for travelling in the colony. Boats were the main transportation mean between the various settlements of the colony.
Noumea port has always been the main place where goods and also people, in the past, could reach or leave New Caledonia. In the 1960's Noumea still had its sailors bars, among them the "Southern Cross", a name of adventure.
A country of shipwrecks
About 400 shipwrecks and other various losses and grounding have been listed in New Caledonia mostly by the 'Association Fortunes de mer Calédoniennes. Such list relates only to ships of recorded displacement. Wrecks and grounding of small boats are too many to be accounted for.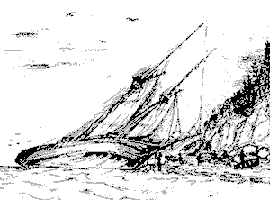 In the times of sailing ships, sailing around and near New Caledonia was difficult and dangerous. Difficult to handle ships in adverse winds and currents made sometimes unavoidable for them to ground on coral reefs. In XIX century, these ships were the ones of whalers and sandal merchants. Then came sailing ships carrying copper, nickel and chromite ores from New Caledonian mines.
Even for steamships and other engine driven vessels navigating close to the barrier reef or inside the lagoon remains risky. Reef pass are narrow. The lagoon is full of shallow waters and reefs. In most channels and pass, tidal currents make going through tricky. In addition there are terrible tropical cyclones that ships sometimes could not escape.
And how not to mention the strange story of the two "Ever Prosperity". They were twin ships ("Liberty ships"), they had same name and same base port in Monrovia, Liberia. The first "Ever Prosperity" went straight up on the West Coast barrier reef in 1965. The second one did exactly same in 1970. It was the same skipper, a Korean man, who had been commanding each ship at the time of her grounding!
Their wrecks are still standing on the reef.
Some shipwrecks among many...
In 1875, the Rangatira,a three mast goelette, driven by currents, hit a reef and got grounded in the Sarcelle pass.
Five masts France II was grounded on the Téremba reef in 1922.
Caught on anchor and sunk by a cyclone : 3 masts Pactole in 1876, 4 masts Fall of Gary in Thio in 1898 and three mast barque Joliette in 1909.
Wrecked on uncharted coral reefs : Dayspring in 1896 on Roche Grange, Emile Renouf in 1900 on reef Durand, Tourville in 1904 in Maré island.
The Monique was posted missing without traces in 1953. Her loss and its unsolved mystery was a drama for the people of New Caledonia. Many families had members on board.
The association "Fortunes de Mer Calédoniennes"

"Association Fortunes de Mer Calédoniennes" was created in 1984 by a group of friends, all sea loving people. They felt that an inventory of the sailing history was required in New Caledonia as well as an action to rescue and preserve remains of many wreckages.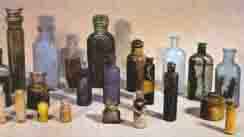 Started by Raymond Proner, the association founder, "Fortunes de mer" has carried-out an extensive work from various archives and old newspapers on the New Caledonia shipwrecks.
About forty of those wrecks have been localised through work at sea using modern equipment. Search of sites on the lagoon bed has yielded a large quantity of items relating to sailing ships as from 1850. In 1998, a large shed was equipped in order to store and preserve many items brought from sea.
In 1998 too the Noumea Museum of "l'histoire maritime" displayed a selection of these items.
"Fortunes de mer" still carries on its research and conservation works.
To read : "Fortunes de mer calédoniennes" has published a booklet on New Caledonia marine patrimony in November 1989. A superb and rather moving map showing the main recorded shipwrecks is appended.
Webpage published with the contribution of" Fortunes de mer". Sources of pictures and historical details : "Fortunes de mer".