Prehistoric discoverers and first settlers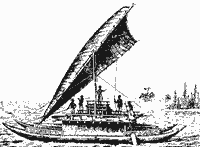 While New Guinea has been inhabited for over 40,000 years and Solomons Islands for about 30,000 years, the settlement of New Caledonia would be more recent. Austronesian migrations which reached New Guinea about 4000 years ago are attested in New Caledonia by the languages and by Lapita potteries dated from 3500 years. Later and until XIXth century, groups of austronesian people from Fiji, Wallis Is. and from western Polynesia (Tonga, Samoa) settled regularly on Grande Terre coasts, in the Loyalty Islands and in Kunie.
But it is likely that New Caledonia first settlers were people of Papuan origin. Indeed the Melanesian people of New Caledonia have a community of physical and cultural features with those of New Guinea and Solomon Islands whose origin is ante-austronesian. The languages of New Caledonia are Austronesian but this does not exclude a population genetically different from the Austronesians as happened in the Solomon archipelago where the genetic heritage is 85% Papuan while languages are Austronesian, resulting from 3500 years of extensive exchanges between natives and Austronesian coastal colonies and visitors. Among Melanesian islands only the people of the Highlands of New Guinea have remained untouched by these Austronesian incursions. Note also that the natives of New Caledonia did not know pigs and dogs when Captain Cook discovered them while these domesticates are part of the Austronesian cultural baggage. We can then conclude that the Papuan type people having colonised New Caledonia settled either 3500 years ago after having acquired Austronesian navigation technologies, or earlier, prior to the Austronesian migration, having had thus navigation capabilities superior to what is commonly thought. Typical Austronesian occupation sites (pottery Lapita sites) have been found only on the coast in New Caledonia and could indicate, as in New Guinea, limited Austronesian settlements in coastal areas.
European discoverers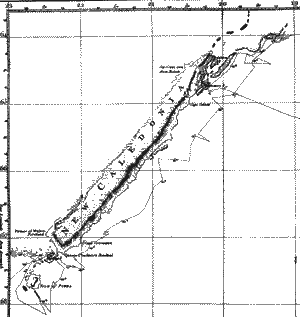 (Extrait de la carte de Cook. Le nord est à droite)
Captain Cook is the first European to discover the main Island of New Caledonia (Grande Terre) on 7th September 1774.
This was during his second voyage. Colnett was the first one on board to see the Grande Terre on 4th September 1774. Cook named it "New Caledonia". He landed in Balade on the East Coast. He was amicably welcomed by the Melanesians. Colnett name was given to the cape located between Pouebo and Panie further South of Balade and to the mountain above the cape. It is the third highest mountain of Grande Terre.
James Cook admired their horticultural knowledge and described their irrigated taro plantations. While his visit was brief (7 days), a remarkable observer he saw that the Melanesians were lying some farmland fallow, an agricultural necessity that, much later, the Colonial Administration did not understand because it quartered the Kanaks in reserves too small to practice it. He described in detail their clothing (penis wrappers for men, short petticoat from plantain fiber for women), their ornaments, houses, foods, ustensils, weapons and sailing double canoes. He gave a couple of dogs to the Chief Tea Booma and a couple of pigs to another. A small expedition crew went to Balabio island where it was well received by the local chief Tea Bi. Guided by two natives Cook went on a path onto a top of the high ridge separating the East Coast from the Diahot Valley where apparently lived Tea Booma. From there he saw the West Coast that he evaluated to be fifty km away (it is at about 40 km). He described the Diahot Valley with the river shores bordered by houses and crops. He observed that the amount of fertile land was mostly restricted to the valley and was low compared to the stony and barren hills and mountains of savanna. He estimated that the population was small.
Cook then navigated along the East Coast to the South of Grande Terre and to Kunie Island which he named Isle of Pines. He mapped the East Coast and although he did not see the West Coast, his map suggests it remarkably close to its actual position.
French navigator d'Entrecasteaux, sent to research de Lapérouse, was the first one to explore the West Coast in 1792. He landed in the Isle of Pines (Kunie) on 16th June. He then navigated along the West Coast and despite several attempts to enter its lagoon, eventually decided safer to give it up. However the coast was well observed from the sea and was remarkably mapped by Beautemps-Beaupré. North of Grande Terre, d'Entrecateaux discovered the Surprise Islands, Huon reef and Beautemps-Beaupré atoll.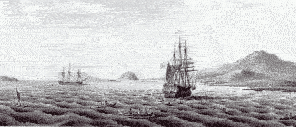 The comte de Laperouse left France in August 1785. His mission included to further explore New Caledonia. He was lost with his two sister ships La Boussole and l'Astrolabe which were wrecked in 1788 at Vanikoro ( Santa Cruz Is. between Vanuatu and Solomon islands).
It has been always assumed that Laperouse was then coming from New Caledonia as this was his logical itinerary. But no writing proves it and logbooks were of course lost.
The mystery is still unsolved but several clues give a strong indication that he indeed visited New Caledonia.
The Loyalty Islands were discovered in 1793 by captain Raven on a British trade ship. He was coming from Sydney.
Mapping and hydrography of the Loyalty islands were done only in 1827 and 1840 by Dumont d'Urville.
The first one to enter the West Coast lagoon was captain Kent. He discovered and named St. Vincent bay. From his logbook he had very good contacts with the Melanesian people.
Whalers and sandal wood traders
Towards 1793 American whalers started to land in New Caledonia for their winter rest. Sandal traders started to come in 1841. This trade became intense in 1846. Sandal trading was halted after the French taking possession in 1853.

Sandal is a small tree. Its wood contains an essence which was and still is a perfume base. It was intensively exploited in all the islands of the South Pacific.
Sandal traders and, to a lesser extent the whalers, induced an incredible technological change for the stone age natives. They were swapping the precious wood against steel tools, weapons, clothes material and glass objects.
The missionaries
Religious lecturers of the London Missionary Society arrived in 1841 at the isle of pines (Kunié) and in 1842 at Touaourou (Southern end of Grande Terre). They had to flee from these places in 1842.
The LMS settled in the Loyalty islands in 1841.
The catholic missionaries of Société de Marie (marists) led by Monseigneur Douarre settled in Balade in 1843. They had to leave in 1847. They came back in 1851.
In 1848 marists succeeded at last to settle in Kunié which then became the main base for their action to convert the natives of Grande Terre.
Kunie chief was initially interested in having a mission settled in his island. But he became hostile to the new religion which he held responsible for an epidemic which struck the population. All religious teachers were killed.
In Touaourou, South of Grande Terre, missionaries had just the time to flee before the killing and eating of all the converts.
In Balade a marist brother was killed and other missionaries had to flee.
The root of these grave problems encountered by the missionaries was the lack of knowledge of the natives. Particularly they did not understand their language and traditions. Periods of food shortage, epidemic and wars were usually triggering factors.
The only immediate success was the missionaries settlement in the Loyalty islands.
The French taking possession
Catastrophic mission : before the annexation, corvette L'Alcmène was sent on an exploratory mission by the French Government in 1850. Its purpose was to study the eventual setting up of a settlement and penal colony.
This mission had a tragic ending in the North of Grande Terre in Yenghebane island. Many officers and sailors were killed and eaten by the natives.
Napoléon III instructed several French war ships to carry-out annexation of New Caledonia, with the provision that this had not been previously done by Great Britain. The first to arrive was admiral Febvrier Despointes who declared taking possession of Grande Terre in Balade on 24th September 1853.
Main sources: ORSTOM Atlas de Nouvelle-Calédonie 1981. La NC, occupation de l'espace et peuplement (J.C. Doumenge et al.)