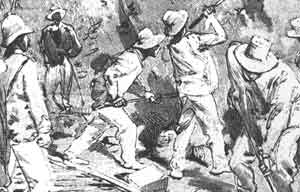 Endeavors to populate New Caledonia with free settlers were rather unsuccessful and the comparatively high weight of the penal colony had a profound impact on the European settlement. For a long time the European people of New Caledonia did not live well with the knowledge of the convict origin of a part of the population, even though many freed convicts did not have descendants. At last, the current generation of New Caledonians has resolved to accept its past without shame. They have overcome an embarrassment which had no base in genetics.
The penal colony remains however a sad historical period and can be classified as one more utopia among many other schemes enacted for populating New Caledonia.
The failed penal colonisation objective.
The penal colony had officially the dual objective of populating New Caledonia and redeeming the convicts. As from 1869 the administration created penal concessions which were land plots of 4 to 5 hectares allocated to deportees who had to develop them in order to eventually get full ownership. They were thus to get rehabilitated through work. The final objective was to fill valley after valley with settlements of farmers. This was the great scheme of governor Guillain. Concessions were allocated to convicts having shown the best behavior and at the end of their sentence. As from 1878 this measure was extended to convicts still undergoing their sentence. With this new regulation and, as from 1882, the pressure of Governor Pallu de la Barrière who wanted to empty the penal camps, allocation of concessions grew fast until exasperated free settlers obtained a tighter control in 1886. Concessions allocations then decreased. There was also a policy to transport female delinquents because the young colony had few women who could accept to marry freed convicts. This had a limited impact.
In 1897, at the end of transportation they were 1700 penal settlers in New Caledonia. Comparing this figure with the total of 22 000 deportees sent to this place shows how the penal colonization scheme was a failure.
In fact the real objective of the penal colonization was for France to get rid of its unwanted people. It indicates how ferocious was delinquent repression in the XIXth century.
The "transportés" (transported convicts) were both delinquents and criminals as justice in these times was not very discriminatory (thefts 51%, murders or murders attempts 29%, morals 9%, voluntary fires in rural areas 5%, swindles and frauds 4%).
The "relégués" (relegated convicts) sent as from 1886 were in most cases petty known offenders. The Law of 1885 provided that they would be sent to the penal colony with no possible return to France. They were not tolerated by the third French Republic with its the bourgeois ethic. These "relégués" came mostly from the poorest classes of the French society in the cities (workers, small traders, tramps) and to a lesser extend from the country side (farm hands).
Exiled political opponents
After "La Commune" uprising in 1871 (the Paris Commune was a brief socialist, reformist, state in Paris from 26th March to 30th May 1871), some of the rebels called then "communards" were exiled to New Caledonia. The first ones arrived on 29th September 1872 on the ship Danae. Overall about 5000 "communards" were exiled in New Caledonia. They were settled in camps in the Ducos peninsula (near Noumea), in the Isle of Pines and in Dumbea. Among these deportees were some famous French dissidents and particularly Louise Michel. During her stay she developed a deep interest in the Kanak traditions and culture. She described the Kanak in a considerate manner and took care of them with humanity. Among other well known dissidents the journalist Henri de Rochefort and Pascal Grousset made their names in succeeding to escape from New Caledonia.
All the "Commune" political exiled got amnesty on 3rd march 1879 and almost all of them returned to France.
As from 1871 France exiled Algerian Kabyles prisoners who had fought against the French colonial conquest. Most of them remained in New Caledonia. They settled for a large part in the Nessadiou valley near Bourail. At the Nessadiou pass there is still today an Arab cemetery ("cimetière arabe"). They eventually completely integrated into the New Caledonian European community.
The "pénitentiaire"
The penal colony administration called "pénitentiaire" was very powerful. It got an autonomy in 1875 and became a State within the State. It managed numerous penal establishments in Nou island, Ducos, Dumbéa, Isle of Pines, Ouegoa, Teremba, etc.
Land greedy, the "pénitentiaire" allocated itself a land reserve which reached 110 000 hectares. This land was only partially used but contributed to a large extent to the Melanesian land spoliation which triggered the 1878 and 1917 rebellions as well as the land claims which fed Kanak independence movements, particularly in 1984.
Dates
Penal colony of New Caledonia is promulgated by Law of 1854. On 9th may 1864 "transportation" started, 248 men, diembarked frm the Ephigénie.
March1872 France exiled in New Caledonia les prisonniers politixal prisonners of 'la Commune' uprising.
From 1885 France sends relegated convicts, who while having completed their sentence where however condemned to stay for ever ine New Caledonia penal jails.
In 1898 le governor Feillet "close the durty water spigot", sending convicts is dicontiued. The last shiment lands in 1897.
The penal colony establishements were closed in 1922.
Figures
22000 people were deported to New Caledonia.
3300 men and 457 women were there relegated.
The penal colony was a men's world at 98%.
In the Nou island camp were 1 500 prisoners.
In 1884, 7 000 prisoners were in New Caledonia compared to the settlement of 11 000 Europeans one third of them being from penal origin. In 1898 the transported and relegated convicts were 12700 that is a half of the total European population.
More than 60% of the transported people were freed in New Caledonia. The other ones died in the camps. Very few managed to escape. The number of freed people reached 6000 in 1887.
When the penal colony was closed in 1922, still 2310 prisoners were held in the camps.
The convicts works
The penal colony convicts were employed to works of general interest. In Noumea they toiled on important land reclamation in center town. They also contributed to timber exploitation in forests and to the opening of new roads. Of course the convicts were working for the various projects of the penal administration.
They were also used for private interests. In 1866 Governor Guillain created the category of "assignés". they were prisoners known for their good behavior who would then be assigned to work for private interests. In 1875 the budget on "Ressources Spéciales" (special resources) was created and the administration was then allowed to sign work contracts with private interests mainly in the mining industry. As an example the "pénitentiaire" leased at a ridiculously low price, 300 convicts for 20 years to the miner Higginson. They were employed on the Balade and Pilou mines from 1878 to 1886. In addition 65 Kabyle political convicts dug the Ao mine addits in 1901.
The untreated question of the ex-convicts
The law of 1854 disposed that transported convicts with sentences over 8 years were forbidden to return to France. People convicted with sentences of less than 8 years were to endure the "doublage" which made their residence in New Caledonia compulsory for a duration equal to the duration of their sentence. By dubbling up their sentence France was thus conveniently getting rid of its offenders and criminals. As a result New Caledonia had 6000 freed prisoners in 1887 against 9000 free settlers. The number of ex-convicts reached 9000 in 1906
Very few freed convicts had the opportunity to get land concessions. The administration gave preference to convicts still undergoing their sentence because it had a better control of them. Consequently most of the freed convicts were thrown on the colony roads without means of subsistence. The law of 1854 and subsequent regulations had hypocritically omitted the freed convicts question.
They were declared unwanted in Noumea and in other towns. Without money, without land which could feed them, they lived a poor nomadic life trying to find work with the farmers and miners. They had often to rely to petty theft for survival. They also did small trades but the administration, with a moral excuse, forbade them from some trades such as bar tenders and junk dealers. Many were alcoholics. They stayed between themselves and were men only. They had no other choice. The free settlers were fearing them but they also took advantage of them as a cheap labor easy to exploit. They were unsuccessful attempts to forbid them to enter tribal reserves were they contributed to alcoholism of men and women. There was an unsuccessful administrative attempt to limits their moves. They were accused of all the wrongdoings. Everything was forcing them to marginality and nomadism without giving them the slightest chance to redeem themselves.
Consequently the freed convicts left few descendants and, officially, even less.
Main sources: Le Mémorial Calédonien tomes 1,2,3 - La Nouvelle-Calédonie, occupation de l'espace et peuplement : J.P Doumenge, E.Métais, A.Saussol. - Expériences coloniales, la Nouvelle-Calédonie (1853-1920) : Isabelle Merle 1995.